The Pasadena Chamber of Commerce is hosting a Taste of Pasadena event at the Rose Bowl on Thursday, September 28th from 6pm to 9pm.
No more than 500 tickets will be sold to the Taste of Pasadena in the Court of Champions in front of the Rose Bowl. No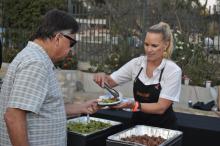 long lines. No waiting for food and drink. Entertainment will be provided by Dance Syndicate.
Advanced tickets are $30 per person and available at www.pasadena-chamber.org/forms/taste-of-pasadena.
Those who do not register and pay in adnvace will pay $50 at the door.
Past participants in the Taste of Pasadena have included local favorites Cabrera's Restaurant, California Pizza Kitchen,Chick-fil-A, CopenhagenPastry, Du-Par's, El Cholo, Clearman's Galley, Hilton Pasadena, Lucky Baldwins Pub, Madeline Garden Bistro, Nekter Juice Bar, Nothing Bundt Cakes, Pasadena Sandwich Company, POP Champagne and Dessert Bar, Simply Cupcakes of Pasadena, Stark Spirits Distillery, Stonefire Grill, White Horse Lounge and Whole Foods Market.
We are hosting this in conjunction with our SIP-tember Finale and cocktail tasting. At the end of the event, we will tally votes of the live cocktail tasting and announce Pasadena's Favorite Cocktail for 2017.
The City of Pasadena, The Rose Bowl, and the Pasadena Star-News sponsor the event.
Want to be part of the Taste of Pasadena, download the form here: