Restaurants throughout Pasadena pay homage to Lionel Sternberger's invention of the cheeseburger in Pasadena in 1924 with delicious meals and deals
Put those New Year's resolutions on hold for seven days and celebrate all things cheeseburger during Cheeseburger Week from January 22nd to January 28th.  
During Cheeseburger Week, presented by the Pasadena Chamber of Commerce each January, Pasadena honors Lionel Sternberger's genius in being the first to put cheese on a hamburger and serve it at the Rite Spot in Pasadena 
It is anticipated that thirty of Pasadena's favorite restaurants, lounges and burger joints offer their signature burgers, some special creations and great deals during Pasadena Cheeseburger Week. (Check Pasadenarestaurantweek.com for updated lists and specials.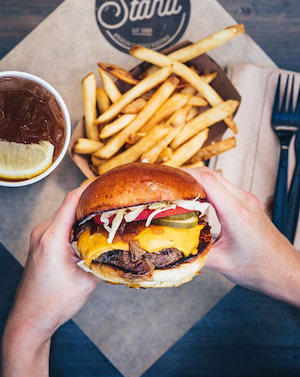 In 1924, as legend has it, teenaged Lionel Sternberger burned one side of a hamburger patty at The Rite Spot, his father's roadside stand along Colorado Boulevard (then Colorado Street) in west Pasadena. Rather than throw away the spoiled burger, he masked his mistake with a piece of cheese and served it to a very appreciative customer. 
Word soon spread and customers flocked to The Rite Spot for The Aristocratic Burger, A Hamburger with Cheese. Sternberger's achievement is the first verified instance of someone serving a hamburger with cheese to a customer. 
Over the years, Sternberger perfected his Aristocratic Burger, much to the delight of customers at The Rite Spot.  
Sternberger's culinary achievement in 1924 has been documented by Hamburger America, the Los Angeles Times and even Time magazine in its obituary of Sternberger. 
To celebrate Sternberger's burger masterpiece, Pasadena restaurants are offering specials, unique creations and the tried and true. From the nationally recognized cheeseburger at Pie 'n Burger to the innovatinve and delightful Zacatecas Burger at El Portal and Yahaira's, Pasadena's burger purveyors pull out all the stops with special menu items and pricing. Dog Haus offers its acclaimed Haus Burger for $7.99 at both Pasadena locations. 
Pasadena may be best known for our New Year events but billions of people the world over have enjoyed a cheeseburger over the past 99 years or so. This is a week for Pasadena to have a little culinary fun and host visitors for a delicious experience.
 
Patrons can find a terrific burger experience, from top-of-the-line fine dining experiences to burger stands and lounges. There are plenty of opportunities for those who want to keep their resolution or prefer something that is not beef or meat based. Those wanting a variety of experiences can organize a cheeseburger crawl or follow one of the pre-planned themed crawls.  
Here is who we have so far (many are still tentative, sorry. keep checking back for participant info):
 
Want a burger break? How about the Lule Kebab Sandwich at Raffi's in East Pasadena. Or maybe Beef Ribs from Bone Kettle in Old Pasadena. Or at maybe a beef kafta kebab at Hummus Labs on Colorado Boulevard.
Maybe something from Burrito Express, Margarita's, Mijares or El Cholo is more to your taste. (After all, isn't a cheeseburger simply a beef burrito rearranged?) 
Information on venues, specials, cheeseburger crawls and more can be found at www.pasadenarestaurantweek.com.  
Cheeseburger Week is a Pasadena Restaurant Week and California Restaurant Month event presented by the Pasadena Chamber of Commerce.
Cheeseburger Week is generously sponsored by Wells Fargo.