Cheeseburger Week ended at 11:59pm on Saturday, January 28th. Delicious burgers and very special selections were tasted by people from throughout Southern California. Some visited old favorites and some tried a new venue. 
Myself, I enjoyed burgers from The Stand, El Portal, Lucky Baldwin's Trappiste Pub, Pie 'n Burger and Dog Haus. Each was spectacular in its own way and unique. 
1,464 of you voted for your favorites in the 2023 Cheeseburger Challenge. Not everyone voted in each category and in some categories there were fewer entries.
We also added a Favorite Burrito category this year to include some new restaurants with old favorites. And it could be argued that a burrito is a deconstructed cheeseburger (if you use your imagination a little). 
Here are the results:
FAVORITE LUNCH COUNTER BURGER: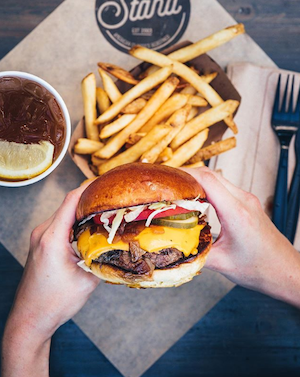 1. Pie 'n Burger 32%
2. Twohey's 21%
3. Jake's Trustworthy Burgers and Beer 14%
FAVORITE TRADITIONAL CHEESEBURGER: 
1. In 'n Out 30%
2. Twohey's 29%
3. Pie 'n Burger 15%
FAVORITE SLIDERS:
1. Dog Hau: 34.5%
2. Twohey's 23%
3. Slater's 50/50 14%
FAVORITE GOURMENT BURGER:
1. The Stand 29%
2. Dog Haus 24.5%
3. (Tie) Craft by Smoke and Fire/Flemings Prime Steakhouse and Wine Bar 10.5%
FAVORITE ALTERNATIVE BURGER:
1. Chick-fil-A Chicken Sandwich 23.5%
2. Roscoes Chicken and Waffles Chicken Burger 20%
3. Pasadena Sandwich Company Big B 9.5%
FAVORITE BAR BURGER:
1. Dog Haus Biergarten 32.5%
2. Kings Row Gastropub 14%
3. Barney's Beanery 13.5%
FAVORITE TURKEY BURGER:
1. Urth Cafe 26%
2. True Food Kitchen 25%
3. Barney's Beanery 18%
FAVORITE SIT-DOWN/WHITE TABLE CLOTH RESTAURANT BURGER
1. (Tie) The Raymond/Smitty's Grill 25%
2. Flemings Prime Steakhouse and Wine Bar 13.5%
3. Mi Piace 10%
FAVORITE VEGGIE/VEGAN BURGER: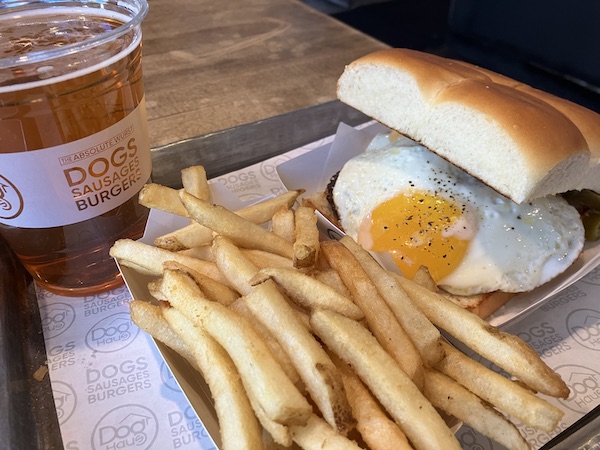 1. The Stand Falafel Burger 34%
2. True Food Kitchen 26%
3. Twohey's  25%
FAVORITE BURRITO:
1. El Cholo 25%
2. Burrito Express 20%
3. (Tie) El Portal/Margarita's Mexican Restaurant 17%
FAVORITE DESSERT AFTER A CHEESEBURGER:
1. Pie 'n Burger 43%
2. The Great Maple 22%
3. Smitty's Grill 14%
FAVORITE CHEESEBURGER:
1. Dog Haus/Dog Haus Biergarten 23%
2. The Stand 17%
3. (Tie) Pie 'n Burger/Twohey's/In 'n Out: 11%