Alma de la Rosa, Flemings Prime Steakhouse and Wine Bar and True Food Kitchen join some of Pasadena's favorite restaurants to showcase cuisine during Pasadena Restaurant Week
Three of Pasadena's newest dining destinations are offering special meals and menus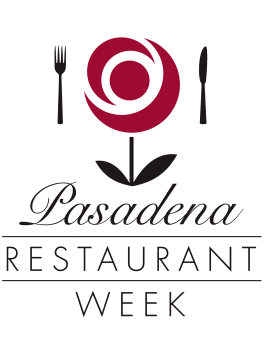 during Pasadena Restaurant Week, April 30th to May 5th, 2017. Alma de la Rosa, the most recent restaurant from Robert and Deborah Simon, will feature a lunch entrée of three tacos: cured duck, pork barbacoa and simmered lamb over green chile corn tortillas for $20 per person. Their dinner menu features seared yellowfin tuna and baseball cut natural prime top sirloin. Dinner at Alma de la Rosa costs $45. True Food Kitchen offers a full menu for lunch and dinner that includes their Spaghetti Squash Casserole, Grilled Chicken Salad and Grilled Fish or Grass Fed Sirloin Tacos for lunch and Scottish Steelhead, Red Chili Noodles and Sustainable Seabass for dinner. The two-course lunch at True Food Kitchen costs $20 per person. The three-course dinner costs $36 per person. Fleming's Prime Steakhouse offers a special lunch menu at $35 per person.
Some delicious offerings from other participants include Filet and Spicy Crab from Ruth's Chris Steak House for $49. Chef Akira Hirose is serving Sautéed Mediterranean Loup de Mer in a Chardonnay Ikura Sauce for $45 at Maison Akira. Café Bizou has Lobster, Sea Scallops and Shrimp Pasta as one of the items on the lunch menu for $20 and Trio of Meat (petit filet mignon, rack of lamb and braised short ribs), Cedar Planked Atlantic Salmon or Moules Linguini Pasta for $36 for dinner.
POP Champagne and Dessert Bar offers a three-course meal that could include their Deviled Egg Quartet or Prosciutto Wrapped Shrimp as an appetizer, Truffle Mac and Cheese of Champagne Chicken as a main course and Seasonal Pavlova or Cookies and Cream for Dessert, all for $36. At Celestino, Calogero Drago is offering a two-course lunch for $25 and a three-course dinner for $45. $20 for a two-course lunch at Plate 38 could include Roasted Tomato Bisque and House Made Capellini Pasta. For dinner, Plate 38 offers include Oxtail and Charred Octopus Stuffed Bone Marrow as an appetizer, a Smoked Jalapeno and Miso Marinated Black Cod entrée and Chocolate Praline Cake for dessert for $45.
For lunch at $20, Del Frisco's Grille offers delicious appetizers, including Cheesesteak Eggrolls and Sweet Corn Bisque appetizers and Shaved Prime Steak Sandwich and Seared Salmon Filet entrees. Dinner options, at $45 include Deviled Eggs or Grille Salad appetizer, Prime Beef Short Rib Stroganoff or Filet Mignon entrée and Turtle Cheesecake or Nutella Bread Pudding dessert.
For a more casual experience, Umami Burger offers a Signature Burger, Side and a Soft Drink for $20 for lunch. For dinner, add an appetizer for $27 or an appetizer and dessert for $36.
All prices do not include tax, tip and beverage.
Return to an old favorite or try someplace new. Taste the best Pasadena has to offer at unbeatable prices. Pasadena Restaurant Week is a great opportunity to visit Pasadena favorites such as Cafe Bizou, Sushi Roku, Central Park Restaurant, Green Street Restaurant, POP Champagne and Dessert Bar, Kathleen's, Madeline Garden Bistro and Venue, De Frisco's Grille, The Terrace at the Langham Pasadena, Ruth's Chris Steak House and many more.
You can also try out some of our newly opened restaurants, such as Alma de la Rosa and Fleming's Prime Steakhouse and Wine Bar (lunch only) and True Food Kitchen.
We consistently update the participating restaurant list. Look for updated restaurant listings, menus and more, visit www.pasadenarestaurantweek.com. Or click on the Restaurants & Menus link above. Patrons can also reserve for lunch or dinner through Open Table. Patrons can also get all the restaurant, menu, pricing and cuisine information on your iPhone or Android smart phone. Download the Pasadena Restaurant Week mobile application at the App Store or Google Play.
Everyone who downloads the app is entered for a chance to win delicious prizes during Pasadena Restaurant Week.
This year's participants include some Pasadena favorites:
Alma de la Rosa
Bistro 45
Cafe Bizou
Cameron's Seafood
Celestino Ristorante and Bar
Central Park Restaurant
Constance perry's at the DusitD2 Hotel Constance
Del Frisco's Grille
Dog Haus Biergarten
Du-par's Pasadena
El Cholo Cafe
Edwin Mills by Equator
Fleming's Prime Steakhouse and Wine Bar
Green Street Restaurant
Kathleen's
Madeline Garden Bistro
Maison Akira
Plate 38
POP Champagne and Dessert Bar
Ruth's Chris Steak House
Sorriso/Bar Celona
Sushi Roku
The Terrace at the Langham Huntington Hotel
True Food Kitchen
Umami Burger
Vertical Wine Bistro
Pasadena Restaurant Week is organized by the Pasadena Chamber of Commerce with our restaurant members.
Gold Sponsors include the City of Pasadena, The Pasadena Star-News and Wells Fargo. Silver Sponsor is the Pasadena Convention and Visitor Bureau/Pasadena Convention Center. Media sponsors include the Outfront Media/JCDecaux, Pasadena NOW, Pasadena Weekly, Pasadena Independent and Hometown Pasadena.
Pasadena Restaurant Week is a citywide event featuring the cuisine of many of Pasadena's top dining establishments. Participating restaurants will offer fixed price dinner and/or lunch menu items for visitors. Dinners will be three-course meals while lunches will consist of two-courses. Depending on the venue and menu offered, meals will be priced at either $27, $36 or $45 for dinner or $15, $20 or $25 for lunch. (Some prices may vary.) Alcoholic beverages, gratuity and tax are not included in the price unless specified by the individual restaurants in advance.
Pasadena Restaurant Week showcases Pasadena as a restaurant destination. The week-long dining event reminds Southern California that our local restaurants offer dining experiences to satisfy all tastes at every price range. Chefs and restaurateurs are offering their finest lunch and dinner dishes at special prices throughout the week.
Participating restaurants will be preparing special meals at extraordinary introductory prices. Two course lunch meals are available at $15, $20 or $25 depending on the restaurant. A three course fixed price dinner is available at $27, $36 or $45. Some participants will offer a special deal or discount instead of the fixed price menu. (All prices are subject to change, as not all venues can provide meals at these prices.)